Truro Sherlock Shines at Taroom Show
Team Truro made the trip to Taroom Show at the start of May – a trip which proved extremely worthwhile. Truro Sherlock S188 entered the ring, having a very good day indeed!
Being one of the biggest shows on the Queensland show calendars, Taroom had 242 head of stud cattle.
Sherlock was awarded:
Taroom Vet Junior Bull Challenge Champion
First in his class, junior bull 19 and under 21 months
First in his class in the Bos Taurus cattle judging, junior bull 18 and under 21 months
Junior Champion Bos Taurus Bull
Grand Champion Bos Taurus Bull
Champion Interbreed Bull
First in the Rabobank Super Bull Challenge- judged by 5 judges and crowd votes.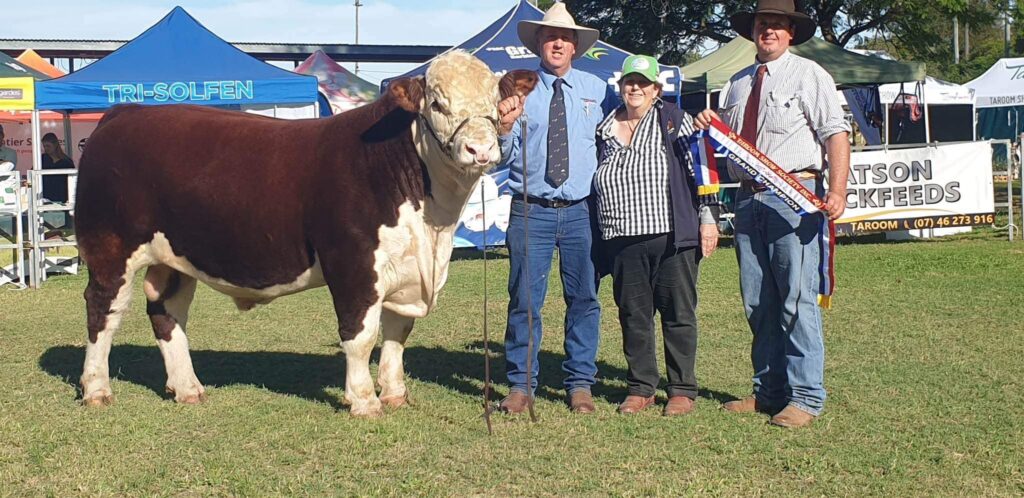 Sherlock is the first bull to win all three sections at the Taroom show (first in the Junior Bull Challenge, Grand champion Interbreed Bull and first in the Super Bull Challenge)- something that makes us feel incredibly lucky and proud.
Sherlock is a stud sire we are extremely proud to have bred. He will be up for sale at our Spring sale on Monday 28th August on- property at Truro, along with 18 other bulls also sired by Yalgoo Peacemaker.
Sherlock is set to head to Brisbane Show in August, along with Truro Sire Power S170 and Truro Fantasia T029.
Read more about Sherlock and his success by clicking on the articles below.
https://www.queenslandcountrylife.com.au/story/8181269/this-weeks-shows-post-huge-cattle-numbers/
https://www.theland.com.au/story/8152163/sherlock-takes-best-hereford-exhibit/