TRURO'S TOP BULL GOES TO VICTORIA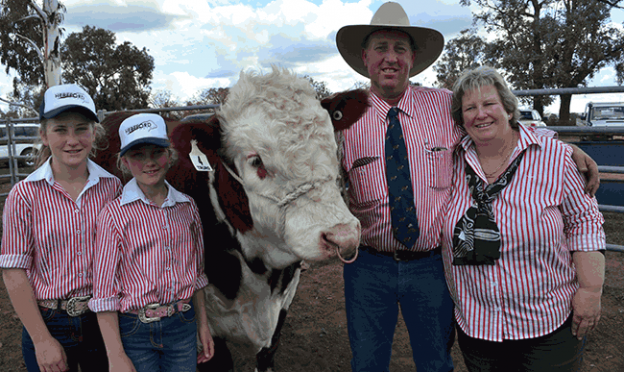 Truro Herefords and Poll Herefords, Bellata, held their 5th bull sale last Monday. The Hann family were thrilled when one of their favourite bulls, Lot 3 Truro Genghis Khan, sold with spirited bidding between two Victorian stud breeders. Mawarra Herefords, from Bairnsdale in Eastern Victoria, won the dual at $14,000 with Peter Sykes making the trip north. Losing bidder, Andrew Klippel from Sugarloaf Creek Herefords also travelled a long way, from Corryong Victoria, to view and endeavour to purchase the bull. Mawarra Stud, is one of the leading Hereford studs in the country and the Hanns are sure Genghis Khan will be an asset to their breeding programme. Genghis Khan had an EMA scan of 131 cm² and weighed 1115 kgs at 27 months and is out of one of Truro's top stud females, A216 , who has a yearling bull the Hanns think is so good they are retaining in the stud.
The tough seasonal conditions to the west and north affected the number of bulls sold, however, the Hanns were thrilled with the number of repeat buyers returning to purchase "bulls that work for them". A number of new purchasers were also very pleased with their purchases on the day. Truro sold 40 bulls for a top of $14,000 and an average of just over $4000, making it a very affordable sale for bull buyers.
Visitors travelled from throughout NSW, Queensland and Victoria. Buyers' locations ranged from very close to home, Narrabri, Moree, Quirindi, Gunnedah, Southern Queensland and out west to Pilliga and Coonamble and up into the New England.
Once again Truro had terrific support from the Pilliga, Narrabri, Wee Waa area and down through to Gunnedah and Quirindi. Buyers included the Stanford brothers, Michael and Sandra Rowe, the Currey families from Pilliga, the Wilson family and the Pike family both of Narrabri, Hibbens family from Wee Waa and further out west to the Wilson family at Coonamble. New interest came from the Nowley Pastoral Company at Spring Plains. Also from west of Bellata Terry and Meg Pawley and Zane Pawley and family both returned to purchase new sires for their operations.
Southern buyers included Jeff and Michelle King, Gunnedah, Glenrowan Estate, Quirindi and also the Cudmore family from Quirindi purchased two bulls. Kickerbell, Quirindi, purchased another 5 Truro bulls for their operation under the guidance of manager, Ian Gardiner. The Woolaston family at Somerton returned to purchase three bulls, after purchasing their first two bulls last year, we are thrilled they returned.
Northern support came from two new buyers Ross Hunt, Pallamallawa, and Laura Downs at Mungindi. Another first time buyer was Rodney Mills from Tabulum, to the east. From Manilla the Iliffe family travelled over and purchased for the first time securing two bulls.
The sale was conducted by Landmark and Hamilton Mortimer Agencies, both from Narrabri, GDL Agencies from Queensland, with Paul Dooley, Tamworth, selling very well in the rostrum. The Hanns were also thrilled with the great support from the private agents and thank them very much for their confidence in our programme.
Scott and Pip Hann, and family, thank everyone for their support and also thank the Bellata School P&C who once again performed a fantastic catering job. Thankyou also to Suncorp Bank for sponsoring the meat for the day allowing the P&C to maintain affordable prices whilst raising funds for the School.
In August Truro heads off to Brisbane Royal with a team of 7 head and hope for more success.
The Hanns now start to prepare for their 2014 sale on Monday July 21st with a great group of yearling bulls ready to step up. They plan to put up approximately 50 bulls, consisting of Poll Hereford and dehorned Hereford bulls. Scott and Pip Hann, and family welcome visitors throughout the year.
PENCIL IN THE DATE FOR 2014 : 6th ON-PROPERTY BULL SALE MONDAY 20th JULY