Truro buyers tickled pink with their new bulls – 2010 Sale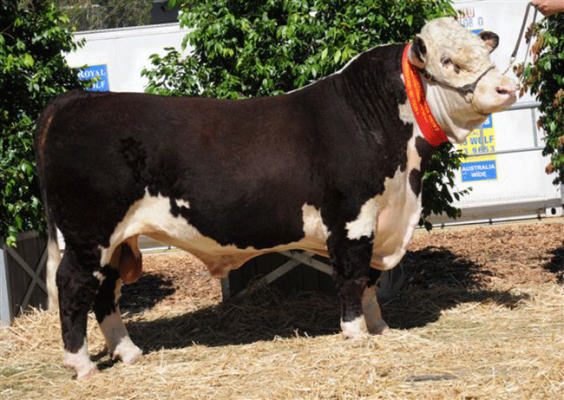 The 2nd Truro Hereford and Poll Hereford bull sale was once again a great success. Repeat and new buyers attended the sale from Victoria, Queensland and NSW to enjoy spirited bidding on the 37 bulls on offer. The Hann family, Scott and Pip along with John and Peggy, were very pleased with increased average from 2009 and a better clearance of the bulls. The Hanns sold 34 of the 37 bulls on offer, topping at $9000 and averaging $3750.
Principal Scott Hann said the bulls were the best the stud has ever had. Sires purchased in the last few years are certainly paying dividends for Truro with increased muscle, great skin and hair and improved weights and eye muscle area. "We've really seen improvement at the top end of our lineup and this is reflected in the fact our estimated eye muscle area (EMA) for this group are over + 3 cm², compared to the breed average of +2.3 cm² " stated Scott Hann.
Rob Hain from Gunyah Hereford Stud made the trip from Cooma to select a new stud sire. He secured the top priced bull, Truro Down Under D037, at $9000. Down Under is by Cootharaba Mendez, a sire that has added great thickness to the Truro cattle. Mr Hain said "I came here looking for a smooth, heavy carcase bull who was an easy doing type, to put over the stud cows and heifers back home. This bull had an exceptional set of figures across the board, and he'll do very well for us." Down Under, at 24 months, boasted 966 kgs. and an EMA of 129 cm².
The Larsen family, Hylands Hereford Stud, Cootamundra, also made the long trip from the south worthwhile purchasing Lot 4, Daybreak, for $6000. The Larsens had previously inspected the bulls at the recent Truro Open Day and returned to acquire a Cootharaba Mendez son. The Larsens admired the natural muscling of the Cootharaba Mendez bulls and hence their return to purchase one. Truro offered and sold 9 Mendez sons for an average of $4333.
The top priced Poll Hereford bull for the day was Morocco Dynamite, jointly offered by Morocco Stud at Gunnedah and Truro Stud. Dynamite was purchased by new buyers, The Turner family at "Toreador" Gurley for $7000. Dynamite had an impressive weight of 1024 kgs and an EMA of 131 cm² at 25 months. Mr and Mrs Turner also purchased another sire later in the sale.
Long term buyers, the Melbourne family, Narrabri, returned to purchase another two bulls for their operation. The family purchased Truro Desperado and Truro Dark'n'Stormy for $4000 and $5500 respectively. Dave Melbourne said that they've been buying "Truro" bulls for about 20 years to infuse over the family's commercial herd, and that they were "as usual" good quality, high growth bulls that suited the Mountain Valley operation nicely. These bulls have improved our herd in both milk production and growth," Mr Melbourne said.
Other repeat buyers were the Whittle brothers (Michael and Paul) from Bungunya (Goondiwindi) who purchased four good bulls, to a top of $3500. David and Ellie Compton from Brewarrina also returned, this time to purchase five bulls, all at the $3000 mark. Phillip and Darren Currey made the trip from Pilliga to secure another four bulls for their expanding commercial operations. Local buyers on the day were Black Ridge Pastoral at Gurley and the Hamilton family also of Gurley
Another long term buyer to purchase four bulls on the day was Ken Cudmore, and family, Quirindi, including one of Scott's favourite bulls, Lot 2 Don Quixote for $4000. Don Quixote had a terrific run of successes at the local shows being Supreme Bull at Narrabri, Walgett and Manilla Shows.
The Hanns were very pleased to be able to secure bulls to a number of new purchasers. Graham Wilson from Gowrie, south of Tamworth, purchased one bull. Also Glenrowan Estate at Mullaley purchased a Poll bull, the Hibbens family purchased "Detonator" for their Wee Waa operation and Max Bultitude made his trip from Guyra worthwhile purchasing one bull. Other new buyers were Mr John Houston who secured one bull for his operation at Mungindi and The Drysdale family from Yarrie Lake, near Wee Waa. A great highlight for the day's sale was the auction of Lot 14 Truro Delungra D064, jointly donated by the Hann's and Jeff and Michelle King of Morocco Herefords, Gunnedah, to raise money for the McGrath Foundation. All proceeds from the bull will go towards breast cancer awareness., with the agents also offering the bull free of any charges. The bull was purchased for $3500 by Ian Gardiner, farm manager for Kickerbell Pty Ltd, at Quirindi. This "Pink Lot" will travel south along with their other two purchases on the day.
Caps and ties were also sold on the day for the McGrath Foundation raising another $350 to assist this wonderful charity. Scott, the Hann family and the support crew all sported pink caps and ties for the day. Another great lunch was served by the Bellata Public School P&C, with the meat kindly donated by Suncorp Bank.
Agents in charge of the sale were Elders Narrabri and Landmark Narrabri while Elders' Paul Dooley and Landmark's Mark Haywood conducted the auction.