INSPECTIONS WELCOME THROUGHOUT THE YEAR

VISITORS WELCOME THROUGHOUT THE YEAR
Welcome to Truro Herefords
Truro Herefords is run by the Hann family – Scott & Pip (daughters Tilly & Sophie) and John. We are using Australian and International genetics in our pursuit of excellence in breeding modern, top quality Whiteface cattle.
Modern cattle concentrating on improving muscle content and IMF
Also concentrating on good skin and hair producing easy doing cattle
Milk and muscle with high IMF
Good temperament and structurally correct frame
Breedplan recorded – Truro is well placed against the Hereford Breedplan averages with many characteristics being in the top 5% of the breed -please note the very high Intramuscular Fat (IMF) figures.
Striving for lower birth weights with higher growth rates – it can be done!
34 bulls being offered at our 9th On-Property sale in 2017 with all bulls semen tested and fully vaccinated
27 Select Stud Matrons for sale online in July 2017
Hereford herd established in 1987 over 200 registered females, and still building
Purchased first Poll genetics in 2007 with 7 cows and calves from Antara Dispersal at Quirindi. These females are outstanding being either Heatherdale prefix or bloodlines. Then purchased 23 heifers from Bowen Stud at Barraba. We also purchased 7 cows, with calves at foot, from the Merawah Poll Hereford Dispersal a few years ago.
Very excited to have Yarram Unique F181 at Truro – one of the top sires in Australia
Dalkeith Joey – top price at 2015 Dalkeith Sale – a poll bull to be used over heifers
Merawah Highlight E62 – now at Truro after purchasing him from Steve Wile, Hunter Lakes Poll Hereford Stud
Centennial Anzac L055 – exciting new sire purchased in 2017 – has an IMF of +1.8 putting him in the top 1% of the breed for this trait
Visitors always welcome so please drop in or give us a call
We're progressive, but never lose sight of commercial reality. 
Performance …. predictability…. profit – that's Truro Herefords!
We look forward to having the opportunity to meet with you and discuss your breeding programme.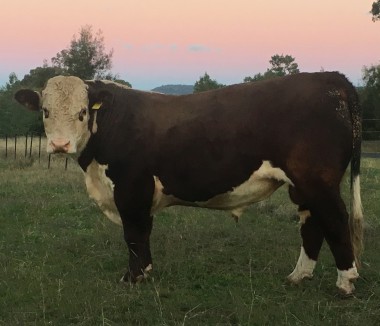 2017 TRURO BULL & FEMALE SALE MON. JULY 24
2017 TRURO SUPPLEMENTARY SHEET AVAILABLE
See 2017 Bull sale page for full catalogue and supplementary sheet